Why do you always know the travelers who visited Hawaii in airports? It is not only because of the straw hats and over sized shirts with palm trees painted like a canvas , no it is because the passengers are still wearing a fragrant ring of flowers around their necks. No one wears those necklaces from anywhere else in the world. A hand crafted Lei is a long time tradition from our 50
th
state Hawaii.
The Lei custom was introduced to the Hawaiian Islands by early Polynesian voyagers, who took an incredible journey from Tahiti, navigating by the stars in sailing canoes. With these early settlers, the Lei tradition in Hawaii was born.
Leis were constructed of flowers, leaves, shells, seeds, nuts, feathers, and even bone and teeth of various animals.
In Hawaiian tradition, these garlands were worn by ancient Hawaiians to beautify themselves and distinguish themselves from others. The Maile Lei was perhaps the most significant. Among other sacred uses, it was used to signify a peace agreement between opposing chiefs. In a Heiau (temple), the chiefs would symbolically intertwine the green Maile vine, and its completion officially established peace between the two groups.
Airport Lei shops provide a tropical welcome for tourists but Leis are just as welcoming for locals as well. On the big island there is a town called Waimea that has a farmers market that has a wide assortment of the fragrant crafts. Expect to get a kiss from a stranger with your Lei and never refuse one if you want good luck in the Lei givers presence. It is not unusual to go to the market for fruit and vegetables and return with a bunch of Leis. Who would turn down the opportunity for kisses and good luck?
For the many people that make the crafts, it is more than a hobby. They feel that the making of the garland grounds them. It is a connection to the land for them. Traditionally they made Leis to celebrate them being there and to honor the forces that created everything around them. It is a spiritual experience. In Hawaii they have a thing called the Aloha spirit and if the spirit was tangible, something you could see or touch or hold in your hand or wear on your body, it would be a Lei.
Some can string 1,000 cigar flowers into one Lei. Marie A McDonald has written three books about Lei making since she has married into a three generation family of lei makers. 34 years ago the family planted flowers on a 10 acre farm. They call it Honopua which means flower place. They feel that while the flowers in the Lei will fade and die the love that went into the making of the Lei will never die. At times it can look like an exaggeration but they are serious about their craft.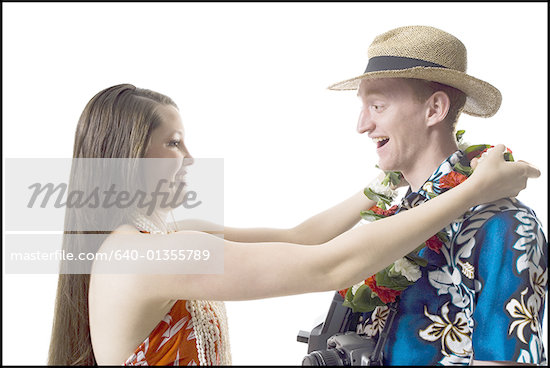 Flower garlands have been used as decoration around the world for centuries. It even found a home in the White House thanks to our Hawaiian born President Obama. Honolulu, the capitol of Hawaii have Lei shops all over their Chinatown. They are used for wedding guests and for every tourist and cost about $6 dollars to make. It is a circle of love representing the unending love you can have for someone no matter what happens in life. You can get so much from just a string of flowers. So go get Lei ed.