How the hell did the Van Gundy brothers get to be coaches in the NBA? They are more known as two schmucks from Martinez. they do have it in their blood. It is something like taking over Dad's hardware store. They both grew up surrounded by basketball. They are Stan and Jeff Van Gundy. They grew up with a Basketball coach for a Father. These guys always wanted to fall in their Father's footsteps. They coached through the ranks of high school and college ball playing all the way up to the sidelines of the National Basketball Association where they each have taken their teams to the finals.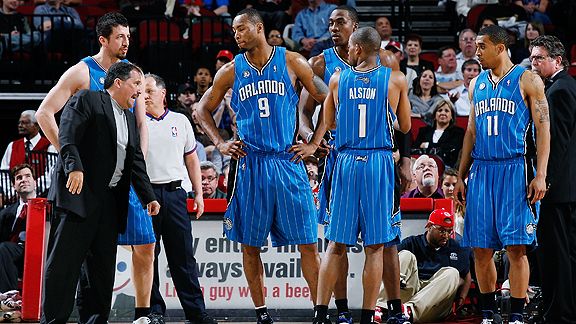 These days Stan is in his 5
th
year as coach of the Orlando Magic. While Jeff has made the transition from coach to broadcasting. In November of 2003 sibling rivalry took on a new meaning when the brothers coached against each other for the first time. Stan with the NBA's Miami Heat and Jeff with the Huston Rockets. Jeff's team crushed the Heat that night sending the Heat home with a record of O and 7. That night Stan told his brother to F himself.
Despite the squabbling among each other these guys love each other a lot. The Van Gundy boys were born to a family of basketball junkies whose idea of a family vacation was a trip to the Final Four. Their father Bill coached for 42 years at high schools and small colleges in California and New York. He admits that both his sons would never qualify as an athlete but did call them great leaders.
Stan played for his Dad's Division 3 team. Jeff who is 3 years younger, went to an ivy league school to Yale until he got cut from the basketball team before the first practice. How bad was this guy? He then decides to leave Yale because he was cut from the team to attend an unknown junior college. Eventually the both graduated college and both went into the family business.
Jeff coached high school and 10 years later he is coaching the New York Knicks. Jeff is a geek that once drove his car into his garage door. His look is one of a non-athlete with raccoon eyes. He would hold his head in his hands during the game and display a miserable demeanor for the world to see in America. The other thing he became famous for was during a play-off game against the Heat in 1998.
A fight broke out on the court and this little guy Jeff at 5'9 inches and a mere 160 pounds went rushing onto the court and grabbed the leg of a 7 foot player in the scuffle. What the hell was he doing on Alonzo Morning's leg? What is worse is that Stan stayed on the other teams bench as an Assistant Coach and did nothing. They are both idiots!
Five years later Stan got his first NBA head coaching job for Miami. Stan admits he meets people like the coach who coached for a long time at Bridgeport University who as a Division 2 coach beat Jeff 9 out of 10 times and who can't believe that Stan is the big shot coach in the NBA. He knows he is a puts and is taking it all the way to the bank.
After Miami, Stan moved on to Orlando where he coached the Magic. He was the worst. ,shouting out plays also showing emotion on the court. Also, for Jeff, 11 years of coaching was enough. In 2007 the Rockets fired him and he decided to be a TV broadcaster. There he looked like he was taking the audience hostage with his monotone voice and his hellish looks with bags under his eyes. He too somehow with his failings managed to join the NBA's number one broadcasting team,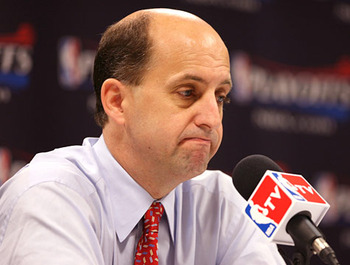 This meant that at times he would have to analyze Stan's games. He had to say that Stan and his team just couldn't deliver a quality game. Like the time in the 2010 finals between Stan's team and the Lakers , it was heartbreaking for Jeff. It was game 5 and the Lakers were ready to win the series Colby Bryant gets a big shot and the announcers job is to get excited over the win and there Jeff has his head down in sadness over his brother's loss of game.
So, this is the story of these two mediocre athletes with not so wonderful coaching records who somehow made it all the way to the top in coaching teams that made it to the NBA Finals and who sat on the best broadcasting bench It just goes to show that anything is possible in America.