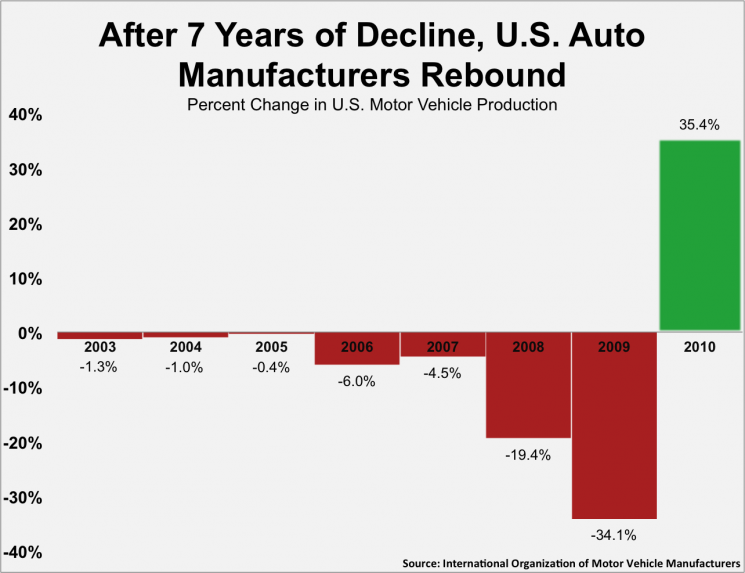 You'll never guess who has regained the title as the world's top selling automaker. General Motors. You couldn't have forgotten that in 2009 the car company hit rock bottom and needed the taxpayers to lend them money to regain their failing business. The entire industries profits and sales are on the rebound now. You all saw the buzz at this year's Detroit Auto Show.
Ford's CEO Allen Mulally is happy to promote their newly re-designed Ford Fusion which includes a plug in hy-bred version that can get the gas equivalent of 100 miles per gallon. It also won the Best in Show in Detroit. The transformation has been in the entire auto industry with nearly 13 million autos sold last year.
The big three automakers all posted increases not only in market shares but in double digit sales growth. Ford is up by 11%, General Motors is up 13% and Chrysler is up a whopping 26%. Bill Vlasic details the recovery in his new book "Once Upon A Car." In the book he notes that Detroit is more competitive, leaner and that they are out to prove that America's autos are just as good and any cars in the world.
It is incredible how quickly the businesses have bounced back. In 2009 Chrysler became the first major United States automaker to file for bankrupt since the 1930"s . General Motors who was once the bluest of the blue chip stocks was nick named Government Motors after it along with Chrysler was forced to take a bailout. Ford was the only one to avoid Bankruptcy.
The effect on the city of Detroit was devastating. The place was abandoned including the car manufacturing properties. They quickly looked like junkyards. Today the town is booming again even though their sales aren't as good as they were before the recession. The biggest change is that all three auto companies are now being run by foreigners to this country.
Sergio Marchionne, the CEO of Fiat from Italy, now runs Chrysler. Under his leadership Chrysler sales surged. They have a redesigned sedan that is also a high performance vehicle. Jeep is also doing well because of its new Grand Cherokee that was recently named the",,,most reliable domestic brand,,," by Consumer Reports magazine. It also won awards for being in the top ten for its interior design. The CEO of Jeep Mike Manley who is from England, is proud of its obsession to detail in his Jeeps.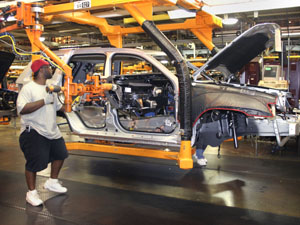 At the Jefferson North plant in Detroit about 1,000 Jeep Cherokees and Dodge Derangos are completed every day and that is not enough for the current demand. Great for Americans is that the company finally needs to hire more employees. 1,100 new jobs are planned for 2013. General Motors have added thousands of workers as well. The massive factory in Michigan was previously going to be abandoned but then the success of the new Chevy Sonic proved to the world that America again could build a sub-compact car in America.
They made the plants here more efficient more modeled from efficient auto plants found in Germany and South Korea. The most important change was a two tiered pay scale. Entry level workers were hired at about half the wage of existing auto workers wages. The slashed labor cost for the Sonic saved the auto company about $500 dollars per car. You couldn't tell who was a salaried worker from a hourly worker . People are just happy to have a job lately and are not going to have bloated unions stop them from working.
The United Auto Workers Union boss Bob King says the wage concessions was not an easy thing to agree to since the town was going on the motto. "same job same pay" before the recession. It is hard for some workers to work side by side a worker that can be making twice the pay he or she is making. It all represents a change in attitude from confrontation to cooperation involving labor and management.
What has happened has saved the auto industry as a whole in this country. People should now look at the auto industry as a model that should be happening across America. Government and Management and Business and Labor all working together so that everyone is working and further ahead in their lives.