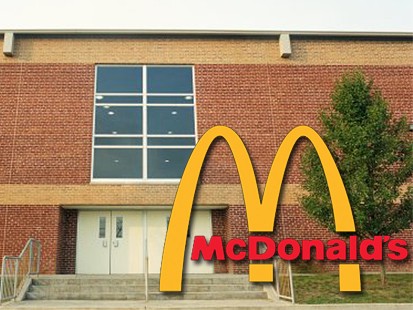 Every sports complex's name has already been changed to some store's name. They all used to be named after a prominent person. Not any more; but let's not stop there, let's name everything after some corporate sponsor. Even our schools. Well, this is not some sarcastic joke. Throw out schools named after our founding fathers like George Washington or Andrew Jackson. Who the hell are they anyway, our kids are more familiar with Nike or Coke or Burger King
Los Angeles schools are facing budget cuts and decided to come up with the great idea to seek corporate sponsors. Yes, let capitalism take over our sources of education. The football fields at local public schools in the second largest school district in the country soon may be brought to students by Nike. Facing huge budget cuts, the Los Angeles school board unanimously approved a plan to allow the district to seek corporate sponsorships as a way to get money to the schools. Does that mean our first grader will look like a Nascar driver covered from head to toe in advertising?
The district is not the first to look for private dollars as a way to close public budget gaps. Districts in Sheboygan, Wisconson and Midland, Texas have offered naming rights for their stadiums for years. I'm sure my son's high school football team wants to wear the Pampers logo. The Los Angeles school district is the largest to offer and if accepted, the plan could generate as much as $18 million for the schools. Ok, maybe he won't mind if they get all new equipment. We all sell out our ethics for money. It's the american way!!
This is typical of all governing entities to seek other sources for revenue rather than clean up their books and try to cut spending. All who voted found this notion to be disconcerting and at least distasteful but nevertheless went ahead with the plan, after all, it's easier. Rename the Academic Decathlon the Viagra Classics or rename the Drill Team Championships the Vagasil Tour. Yes!! Let Corporate America Prevail!!!
The districts have some limitations, thank God! No alcohol, tobacco or firearms can be promoted. No companies that promote high-calorie or high-fat foods will get play, either. Josh Golin, the associate director for the campaign for a Commercial-Free Childhood, said," They really have an unrealistic idea of the amount of money they can raise with the kind of restrictions they are talking about." Yes, most corporate sponsors promote products that are not healthy.