She is loud and mean and I wouldn't want her help for anything however she is rich and famous for yelling at people to get into shape. I guess we can call her the biggest winner even though she is famous from her part in The Biggest Loser TV show. Her name is Jillian Michaels that has marketed her image so well that now you see her piercing dark blue eyes everywhere.
Her name and image is plastered all over a line of fitness products like a Kettle bell push up bars or a Cross Bar or protein Whey powdered drink. She has videos called Master Your Metabolism with her face plastered all over the cover of at least a dozen videos. She is now the biggest name in at home exercise products. Now she is a best selling author with her book called Unlimited; How to Build An Exceptional Life. Really? I s she Godlike that she can claim to create exceptional lives? And since it is a bestseller then where are the millions of people leading exceptional lives living? I can't find them.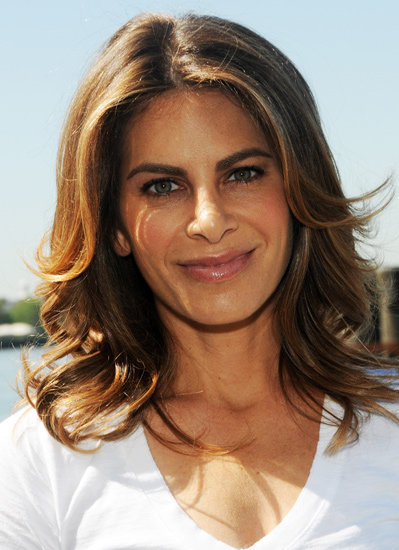 Jillian is so famous now that she is called a brand. How did it happen? We all hate how she treats people on The Biggest Looser TV show and we all hate the things she yells and how she looses her temper with people. Most of her fat people are in tears long before they actually loose any weight. But at the end of the show you do see results. Her direct approach is now legionary tough love that borders on abusive. It kind of is missing the love part.
Yet many people do like her. She has released 15 home fitness DVDs selling 8 Million copies. She has written six diet and fitness books with titles like Making The Cut and Winning by Losing. She has secured countless product deals and is about to launch a nationwide speaking tour. Not a bad career for a spotter on gym equipment. Michaels now heads a multi Million dollar empire but says she has no time to actually exercise.
With so many fitness products in the market she should be worried about exhausting her image. She is now essentially competing with herself. There have already been some failures. Her own TV show called Losing It with Jillian was a loser in the ratings and was quickly cancelled. In 2010 Michaels was sued four times for endorsing diet supplements called Carolie Control that contained allegedly dangerous ingredients. The suits were eventually dismissed. Yet overcoming adversity is nothing new to her.
Her upbringing in Santa Monica, California was anything but the picture of fitness or happiness. She was five feet two inches and 175 pounds and viewed herself as "the ultimate looser." She says about herself, "I had a huge nose, acne breaking out, braces, over weight and no friends. My parents were going through a horrible divorce." It sounds like she really needed therapy.
Ironically Jillian turned her life around not by anything she is selling or saying. She took martial arts that got her into the gym. Stuff like Karate. Then she became a personal trainer. At the age of 28 she opened up a sports medicine clinic in LA. Two years later she landed her role on The Biggest Looser. How insulting it that to all the physical education experts who spent years in colleges and universities studying all the aspects of fitness and sports and they get no recognition in their lives for their well schooled professions. Jillian does not have any Olympic medals or Competition titles to her credentials yet she is now considered an expert in her field.
She is able to have a very comfortable life on the California coast sharing it with her partner Heidi and their two adopted kids . She tries to keep her lesbian life and the identities of her children very private. Jillian just wants to be one of the famous women in our lives that have staying power; women like Jane Fonda or Opera. In her personal life she feels that she is in a really good place but in her professional life she is never satisfied. Maybe that is why she is always yelling at someone.