It is wedding season. Lots of brides love to have June weddings because the weather is great for outside photos and most people aren't away on vacations till July and August. Young kids and family members are still in school in June so family members don't have any excuse to not be there to witness the blessed event. Wait! Step back! Where do you finally meet your supposed Mr. or Mrs. Right? More than a third of marriages are now blossoming online.
It is "premature to conclude that online dating is better than offline dating" says Social Psychologist, Eli Finkel. Then there is also the danger of falling in love with someone you think is a honest, trusting loving person on line but then when you see her in person she can turn into a completely different thing physically, spiritually and emotionally. Maybe you should see them first and then get to know them. But, we are in a global society where people are getting intimately online together while living continents away.
More than one-third of recent United States marriages started online, says a study out yesterday that presents more evidence of just how fully technology has taken hold of our emotions and ultimately our lives. The research is based on a survey of more than 19,000 people who were married between 2005 and 2012. They also found out that relationships that began online are slightly happier and less likely to split than those starting offline. Maybe because by not seeing the full figure of your online lover is simply something you don't need to see. Something else to not be so critical of.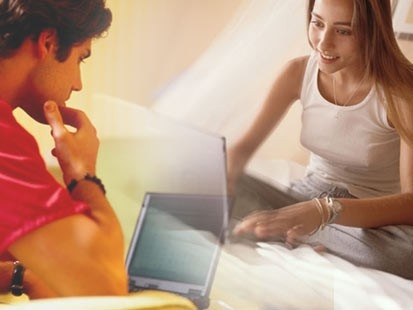 The findings, published in the journal Proceedings of the National Academy of Sciences, put the percentage of married couples who meet online at almost 35% percent. About 45% percent of couples met on dating sites; the rest met on social networks, chat rooms, instant messaging or other forums. You actually have an infinite amount of ways to meet someone online than going prowling in your neighborhood bumping into the same drunken losers each week.
Lead author John Cacioppo, a psychologist and director of the Center for Cognitive and Social Neuroscience at the University of Chicago, says dating sites may be attracting people who are serious about getting married." I think women are more serious about the married thing because they do not want to have bastard children. They are still traditionalists and want the sperm donor to not just be the baby daddy. They want their child to have a Dad, a Father. Their married man to them, the commitment thing on paper.
Women in this society have it rough ever since the feminists of the sixties shouted for women to get out there in the work force and be their own boss. Well they never told everyone how she is to accomplish a good education with college and professional certifications, deal with their ticking biological clock while they are studying and being the perfect Mom and housemother all within their twenties and thirties. After that their ovaries have dried out and even if they are remotely sexual or look the least bit hot are considered cougars. Tough life not a wife.
Men can have children well into their eighties and seem to be able to be called distinguished when they are old and ugly. The study is not without controversy. It was commissioned by the dating site eHarmony, which paid Harris Interactive $130,000 to field the research. Cacioppo has been a member of eHarmony's Scientific Advisory Board since 2007. Former eHarmony researcher Gian Gonzaga is one of the five co-authors. See, that girl online that you thought was a perfect match for you, turns out to be a lying mess.
Sociologist Michael Rosenfeld of Stanford University says the numbers seem "reasonable." His own research, published last year, found that 22% percent of newly formed couples had met online from 2009 to 2011 and they were twice as likely to marry as those who met offline. So, throw your computer out the window, you might have feelings for someone online if you don't get rid of the thing. Trust me.