She is a feisty redhead who will not quit and now she is the most successful jockey our country has. She is also the hottest jockey in America winning more races than anyone else. Most importantly, she has also ridden horses that have earned more than $48 Million dollars in purse money. The main difference from this accomplished jockey from others that have mounted race horses is the fact that she is simply a woman. If only it were that simple. The art of horse racing is a male dominated arena that is still full of chauvinistic pigs.
There is not many women in the game of horse racing jockeys anyway and for her to rise to the top as the most successful jockey man or woman is simply amazing. She looks like a hot ordinary girl who is 25 years old that was born in New Jersey and that is who she is. Now she lives in New Orleans and ran in the Kentucky Derby. No woman has ever come close to winning there before. Her name is Rosie Napravnik who hoped to make history as the first female Kentucky Derby winner but she only finished ninth in 2011 which is still the best finish a woman has ever done.
Give hertime, she is young and very determined and has been surprising the bookies since she has began racing. It is a tough contact sport for a 5 foot 2 inch woman who weighs about 110 pounds. Pretty normal for anyone's petite daughter. However, not normal for the amount of strength it must take for her to dominate a thousand pound beast of a horse galloping at more than 40 miles per hour. It takes anyone confidence, focus, the right touch and an absolute absence of fear. Not exactly the traits coming out of most women.
Her numbers are stunning. Rosie has won more than 1,500 races since she started competing at the age of 17. This year she has finished first, second and third nearly 65 % percent of the time. Could it be that a woman's touch is needed here and all those men dominating the sport didn't know it? She says, "If strength is what men have to their advantage a woman has finesse. Horses can feel your nerves, excitement and can tell if you are relaxed so they will be relaxed too."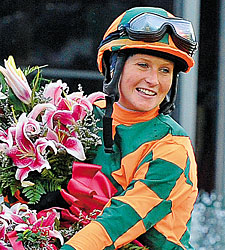 It is still a tough road since horseracing has been stamped men only for more than a century. Even fellow jockeys did not accept her welcomingly. They would put her in tight spots and pin her against the rail during races. She has also already had more than her share of really bad falls during races. Rosie has had five major spills already. One of the worst was when a horse stumbled and fell, threw her and another horse galloped over her down body.


Rosie broke her leg at that race and has also broken her collar bone, back , left arm and snapped her wrist in two from other events. She walks with a metal rod in her leg and a plate in her head but she walks well and looks great. Despite all her injuries she never thought she should change careers. She has a passion for speed and winning both sorely needed for her job. Rosie Napravnik rode a winner Saturday May 4th at Churchill Downs, this year's Kentucky Derby. It wasn't the victory she had hoped for, but her day at the 139th Kentucky Derby did set a precedent.


Napravnik, aboard a horse called Mylute, finished fifth in the Run for the Roses the name of the Kentucky Derby. . It was the highest finish ever by a female jockey in the opening event of thoroughbred racing's Triple Crown. Napravnik wasn't disappointed. Instead, she saw a solid race by her horse. "He really did everything very well. We were right with Orb the entire way," Napravnik said. "We followed him around into the final turn. I was really hoping to be third."


Napravnik said Mylute has a solid future. "He's just a very talented horse. He's going to improve off of this," Napravnik said. Earlier that Saturday, Napravnik was aboard Delaunay as the 6-year-old gelding won in the $443,600 Churchill Downs Stakes. She improved to 4-for-4 at the legendary Louisville track.


Two years after achieving the best finish by a female jockey in the Derby, she improved her standing among the seven women to have competed in the race. Napravnik's pursuit of the milestone comes a year after she became the first female rider to win the Kentucky Oaks, the second-biggest race on Churchill Downs' marquee weekend. In 2011, Napravnik was at the reins as Pants on Fire finished ninth. She is the only won to have finished in the top 10.