Easter decorations are already everywhere. The candy packages have changed from hearts to bunny rabbits and pictures of eggs. But where are the books about Jesus rising from the dead or at least the tale of Peter Rabbit? Do your kids know the story? It was published on December 16
th
, 1901 and it is the story of Peter Rabbit. That was 111 years ago and the stories never go out of style. So, put all that candy away and sell some books.
It is a good story for small animal lovers everywhere. Her name was Helen Beatrix Potter who wrote the Tale of Peter Rabbit. She was born in London in 1866 and loved nature and who would always bring home an assortment of pets. Rabbits, mice, birds, squirrels and even rats so by age 14, she was sketching and making up stories about them.
It was a series of letters that she would write to the children of her Governess that would ensure Beatrix Potter a place in bedtime story history.
In 1895 she wrote to a 7 year old child, "My rabbit Peter is so lazy he lies before the fireplace in a box with a little rug." By 1901 she had turned her letters into a book. It told the mischievous doings of Flopsy, Mopsy, Cotton-tail and yes, Peter Rabbit. More letters followed and more books developed into a 23 book series that introduced us to other famous characters as Squirrel Nutkin, Benjamin Bunny, Jemima Puddle-Duck and others.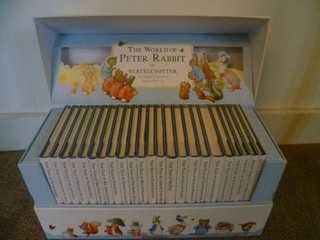 Throughout the decades more than 40 Million Beatrix Potter books have been sold published in 40 languages that inspired countless retelling including a ballet and a popular animated BBC series. Yes, if you are too lazy to read the books you can buy the cartoon tapes of the tales somewhere.
Beatrix herself was surprised at the ongoing appeal of her books being sold every year. She knew that giving her animals human characteristics was funny and warming. What was wrong with having a group of rabbits having a snow ball fight? Or a mouse in bed with a cold or even a frog fishing? We saw a lot of these things in the early Disney movies or in the antics of Tom and Jerry in the old cartoons where chairs and brooms danced to old classical music on a daily basis.
Beatrix Potter died in December, 1943 but Peter Rabbit will be forever sneaking into Farmer McGregor's garden in search of his mid-day snack of carrots. So, pass up all that candy and find a good Peter Rabbit Book and read with that bright eyed child in your life. Instead of having a mouthful of chocolate in his or her mouth, enjoy them with a mouthful of smiles and laughter at reacting and thinking and imagining things the little creatures in their lives could be doing.