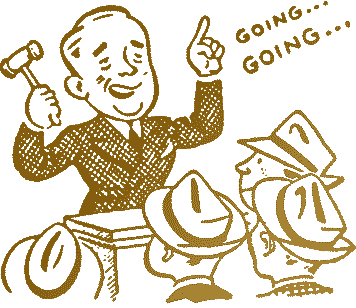 Talk about an offer that you can't refuse. Well, you can find those kinds of offers at Auction Houses across America. Especially in these hard times with the holidays upon us shopping or delivering your stuff to these places can be a financial gain or you can find something unusual or interesting or just something you need to buy. You might even find something new or unused.
I found someone very special who owns an Auction House and although I don't completely understand the place I know it is a place of vitality and excitement for all. Even the overworked employees of the place love to analyze the merchandise people bring into the place. It can be anything to common household items to rare artifacts to very valuable items. Whatever the item, it is a place where everyone can be happy.
I guess for the economy there should be more Auction Houses or even consignment shops around the country. The largest chain I know of is the Goodwill stores and they will just take your stuff and not pay you. Unless I'm in a generous mood I would just probably throw my unwanted stuff in the trash.
There are famous items you can find in an Auction House. My friend said she even had access to some items that President Lincoln had in his hands at one time. I know of some Auction items that would tempt The Godfather himself to make a bid. Bobby Livingston's family has been Auctioning rare artifacts for thirty years. He has hidden in a life-sized safe a letter from Washington dated 1775 and a signed picture of Einstein from Princeton in 1935.
They are to hold their biggest event ever at their Amherst, New Hampshire Auction House that I stumbled upon while on business there. At this place it is not the heroes that are the headliners. He has Washington, Lincoln and Churchill there but now Al Capone? Bobby justifies his acquisition as something of value because Al Capone was an iconic figure that represents an era in American popular culture.
He puts on his white cotton gloves and reveals 130 pieces of gangster memorabilia from the 1920's and 1930's. They all go on the block that represent items that he got from private collectors during the last eight years. Stuff like signed papers, a gun, bullets, a pocket watch even a ladies stocking and Bobby says there is a lot of interest in the stuff. He even thinks it will be a seven figure Auction.
Included is a poorly written musical love letter. Yes, hand written musical notes written on a page with loving words written under each note. It turns out to be a note Al Capone wrote to his wife Mae while serving time in Alcatraz. For a guy being known for his toughness, he did love his wife.
Also featured are items found on Bonnie and Clyde right after the shoot out that ended their bank robbing careers and lives in 1934. He is auctioning off the pistol that was in Clyde's waistband when he was killed. This couple captured the popular imagination during the Depression targeting the very banks that were foreclosing on homes and farms.
Bobby Livingstone expects that gun to be sold for about $200 thousand dollars. He believes the real value of this collection is the gap it exposes between fantasy and reality.
We all have problems where we think anything goes in fantasy until it meshes with reality where there are many ethical rules one must follow and that is when we become like criminals too. Those people were desperate criminals. They were not glamorous outlaws living in high class style. They would just shoot you or rob you. They lived a desperate life without comfort.
When history becomes a commodity sometimes the bad guys are worth more than the good. So, when you got some bad guy evidence following you around does that make you eventually worth something?
Two guns once in the possession of notorious gangsters Bonnie and Clyde when they were killed in a hail of gunfire sold at a New Hampshire auction this end of September for more than half a million dollars.
The guns were two of 134 artifacts that sold for a total of $1.1 million at the auction in Nashua. About two-thirds of the auctioned items were from Clyde Barrow and Bonnie Parker, but items also came from other notorious criminals, including Al Capone, Pretty Boy Floyd and John Dillinger.
Bonnie Parker's .38-caliber Detective Special that she had taped to her thigh when she was killed in 1934 drew the highest bid and sold for $264,000, said Bobby Livingston, vice president of RR Auction in Amherst, N.H., which held the auction.Clyde Barrow's 1911 Colt .45-caliber automatic sold for $240,000 to the same bidder, who didn't want to be named, Livingston said,
"When rare items like that come up for sale you expect this kind of enthusiasm," Livingston also said. "There was some serious bidding going on."
Many of the auction items came from the estate of the late collector Robert Davis of Waco, Texas, with the remainder coming from various other collections.Most of the items came from famous gangsters and outlaws, but some were linked to law enforcement officials including Elliot Ness and Texas Ranger Frank Hamer, who led a posse that tracked down and killed Bonnie and Clyde in Louisiana.
Clyde Barrow's pocket watch sold for $36,000, Livingston said. A 1921 Morgan silver dollar that was found in his pocket after he was killed sold for $32,000So, just the 2 guns sold for $504,ooo wow