It is the longest running movie franchise in history and one of the most profitable earning nearly $5 billion dollars in ticket sales world wide. Now it is also 50 years old. We can only wish that we could be so popular when we are 50 years old. James Bond is no where near retirement. There is a new movie being released in November and Adele already has a hit song with the Bond theme song underlying her sexy voice.
What is the secret to Bond's longevity? One thing for sure is that Bond movies have consistently been able to change with the times but yet give you what you expect. Lots of sophistication, unbelievable action chase scenes compounded with a good story and most of all the sexiest women of the times. Yes, the secret to a successful anything is the support of people behind you. Bond has been supported by one family since the beginning of the franchise.
Back in 1962 a small time producer named Albert Broccoli made the first Bond film. The family went on to produce 15 more films. Before Albert died, he willed control of the franchise to his daughter and step son. They are producers and own half the franchise now and oversee every aspect of every film including the new one called Skyfall. His daughter Barbara and his step son Michael Wilson love to be on a Bond set to just make sure the movies stay true to the mood that has been captured so many times before.
Skyfall stars Daniel Craig in his third film as 007. He is the sixth actor to play James in it's 50 year history. The Broccoli family pour a tremendous amount of money into the films as we get to watch pretty much anything you can think of being blown up or just plain be destroyed. It is also a tribute to the family that they have managed to not be bought up by large studios. After all, the family trademark is always an over the top action filled suspenseful opening scene.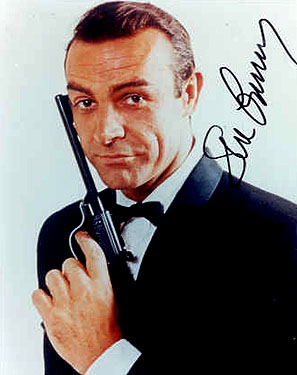 This movie is shot in Turkey with Daniel Craig performing many of his own stunts. Maybe that is why they keep letting him get the lead role as 007. In my opinion, he is neither rugged nor tall or sexy. Just wrinkly and not with the charm and sophistication the good old Sean Connery possessed way back then when he was 007. Fantasy has always been at the heart of the James Bond appeal. Daniel Craig admits when he is having a battle with someone standing atop a moving train he is able to act out his fantasies.
We all have fantasies and some of us act out our fantasies into the real world. Admit it, who of us have never cupped our fingers into the shape of a hand gun and pointed? Looking in the mirror of course, convincing ourselves that we look cooler than whoever is playing Bond in the movies, for that moment in front of the mirror , in our fantasies, we really are the handsome rugged, sophisticated master of love making while saving the world from some evil.
The idea and main focus of all the films were born with the same premise as Ian Fleming's first book called Casino Royal. Ian was a former British Naval Intelligence Officer who published his book Casino Royal in 1953. His background knowledge gave him plenty of information to be able to write a credible spy novel that is now a classic book and movie. It offered readers an escape from post war Britain.
Ian was anxious to have someone make a movie about his book and soon another producer Harry Saltzman bought up the movie rights to all of Ian's other older books for a mere $50,000 dollars. For their first film in 1962, Dr. No, Broccoli and Saltzman picked Sean Connery who was at that time an unknown Scottish actor. The minute when a woman asked him who he was in the movie and he casually lit his cigarette and looked her in the eyes and said, Bond, James Bond women forgot any real man in their life.
I think Bond movies can be responsible for infidelity in relationships. Couples are sitting down together watching one of these films and she is fantasying about being with James Bond and he is fantasying that he is James kicking ass in the movie and kissing the girls before his gun even gets a chance to cool down.
Over the duration of six Bond films that Sean acted in the leading role as 007, he set the bar for any of the five remaining Bond men on film. George Lazenby for one film, Roger Moore, Timothy Dalton , Pierce Brosnan and now Daniel Craig. Even with all the changes in 007 they all spank their girls, kiss passionately and are not long term guys. Bond may not be dependable but his films are.
That combination of ruthless gun play, the racy girl play, and often risqué word play will always lure you back into seeing the next film. Who can forget the time he asks a girl what her name is and she replies, "I'm Pussy Galore." ??? Enough said.