Old supermodels are great. They really never ever look old and still manage to keep themselves current and rich by associating themselves with another product or service. Well, then add Iman to that list of beautiful women that refuse to have their make-up fade and to fade out of the spotlight at all.
You remember her, the one with that long neck and mysterious look on her face. Oh yeah, she was married to that white gay looking guy. Yes , lets get out all our stereotypes out in the open first. The fact is that she is a Somali born model that was on every runway and on the cover of every magazine in the 70's and 80's.
By the way, did I say she was black? No, because I don't think along racial divides. I see a beautiful woman. However, she realizes that we are different in skin color and that it needs to be addressed and she addresses it all the way to her bank account. She says she remembers that a make-up artist asked on her very first modeling shoot if she had her own foundation. He didn't ask the Caucasian women that question because he had foundation in "white girl" shades.
In a way you can't blame the guy; How many black super-models were there then? Not many. So, since Iman did not have any foundation of her own, he proceeded to mix colors to make a suitable shade. Even now, only recently have we seen clear or shaded band-aids for people of color who need it on their skin for some minor cut. Iman was pleased with the makeup artist's blend .
She went on to model for some of the greatest designers of all time. People like Yves St. Lauren, Valentino, Calvin Klein, Donna Caron and Versace to name a few. In 1994 after she retired from modeling she founded IMAN Cosmetics. Designed specifically for women of color. That is not racist. It is a necessity. She says that the latino or black women in the industry have always asked her about what foundations or products she has used to give her that flawless glow in her photo's.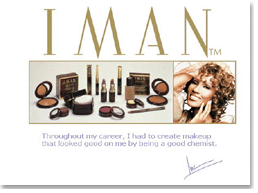 I don't think any product can give a woman her natural beauty. Imam's products are being sold on the web and in chain stores. She does anywhere between 25 and 30 Million Dollars per year in sales of those tiny little jars and tubes of color for a woman's face. Maybe not just a woman's face. Or, will that spark more Billions in sales for men's facial products.
Not bad for a girl who never used any make-up while growing up in Samalia . Her father was a Diplomat and she grew up in a close Muslim family. She admits that no one has ever thought she was pretty until she met Peter Beard, a professional photographer she met in Nairobi, Kenya while walking down the street one day. It seems that a lot of beautiful models get discovered while being public.
It was the classic story where she thought that he was just interested in her for sex however he was a photographer and she needed college tuition money so there was the photo that made all her college money. Then the modeling contract poured in and her ticket to the New York fashon world. Unfortunately, the racial atereotypes were there even from Peter who wrote in an article that she was a tribes woman that was part of a nomad family in the East African Bush and not the educated daughter of a Diplomat for dramatic purposes.
It was in 1990 when real changes came into her life. She fell for rock musician David Bowie. They were set up by their common hairdresser and were married two years later. After 20 years of marriage they still have the hots for each other and respect each other. They have a daughter together as well as a child each from previous marriages. Her eldest daughter, Zuleka works in her company.
Now she is expanding way beyond cosmetics to accessories like hand bags and in a line of fabrics. At age 56, Iman is proud of aging gracefully. It is good to feel so grounded and more secure in your later years. Having a successful business doesn't hurt to help make you feel grounded either.