Cindy Crawford got a scholarship to Northwestern University for Chemical Engineering, Married Richard Gere and has many product endorsements. Can it get any better for someone? Oh, yeah, she also managed to become a multi-millionaire super model despite a mole on her face. Is she just lucky? Must be because she has also managed to have a loving marriage to a successful man and two beautiful children.
She has become so famous that her face has become a brand. In the celebrity endorsement world, Cindy Crawford is a major player now. She has a deal with advertising Omega Watches, she has her own line of home furnishings and if you are up late at night, you can see her lengthy info-commercial for Guthyu-Renker beauty products. So, girls this is how you make big money just waiting for the profits to come in each time somebody buys a watch, something for the house and something for yourself.
In her info-commercial called Cindy Crawford "Meaningful Beauty," the film starts with her face turned off to the side proudly showing off the giant raised mole brown spot on her face! Then she has pictures of her side by side that look pretty much identical but were taken at age 28 and age 48. Hey I was up at 4 in the morning with my insomnia gaze at her yourself.
Even at age 48 she is still modeling for print ads like Allure Magazine. You can usually find her on the covers of Vogue and Bazaar Magazines as well. Leave it to your kids to remind you of how busy you are. She remembers when her kids were younger that they would cry when she had her makeup done in the morning because that meant that Cindy would be gone for the day working.
Like most mothers who wont admit it, Cindy was glad to go to work because Modeling is so much easier than raising children. Maybe that is why most Mothers look so tired and worn versus so called working women. She finds a balance with her work and children by being a voice for St. Jude 's Children Hospital. Cindy has become the face for the Hospital's fund raising campaign. That kind of photo shoot you can't be practically naked as in most modeling ads.
Being born in the unglamorous Decalb, Illinois, Cindy was the second of 4 children in the Crawford family. Three girls and a boy, Jeff. When she was in grade school her brother was diagnosed with having leukemia. Jeff died just before his 4th birthday. It is her childhood sad memories that help her to want to do whatever she can for the cancer treating hospital.
By high school her parents split and Cindy chose to distance herself from her father who left the family. She threw herself into her schooling graduating high school as her valedictorian and the top schools recruited her. Because of her good grades in high school, she went to Northwestern on a academic scholarship in Chemical Engineering since they were recruiting women to that field at the time.
Cindy dropped out of school after one semester and went to modeling. At first the agencies wanted her to remove her mole and even took photos covering the thing but within a few years even with the mole, Crawford became one of the hottest models in the industry and appeared on her first Vogue cover in 1986. She gained a mostly male audience when she hosted MTV's House of Style in the early 90's.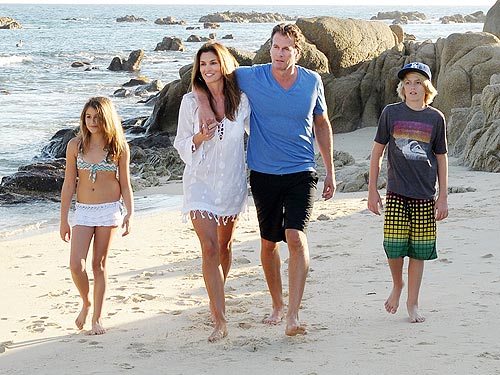 In 1991 she became one half of People Magazines sexiest couples alive when she married Richard Gere. They divorced 5 years later. Three years later she married the former model and night life millionaire Randy Gerber who fathered her 2 children. Now her 10 year old is also modeling by posing for a Versace print ad.
Cindy Crawford says that she loves her life, loves her husband, loves her children loves her work. In essence, if you manage to love then love everything you can get your hands on and you will have a happy meaningful life. We can all learn from her that ambition and love can give you a rewarding satisfying life.