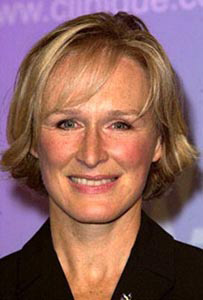 We've seen her in plays, on Broadway and in the movies. She has played serious roles , sexy vixens and silly Disney movie types. Having won all kinds of awards for her craft, she still hasn't held an Oscar and this time she really wants one. She is Glenn Close.
The 64 year old actress was nominated for a golden globe award recently for her performance in the film "Albert Nobbs" and didn't win one. She is now hoping for a best actress award at the Oscars after all she has been in all kinds of movies for the past 20 years. She really thinks she deserves an award for this film because she not only stars in the film, she co-wrote and co-produced the film.
She said that she loved producing the film even thought she hates to do the budgeting side of the film and really enjoyed the creative input she is allowed to do as the producer.
This movie is very weird and it is hard to even look at her or him. In Albert Nobbs, Glenn plays the painfully shy butler in a 19
th
century Dublin home. He is a servant with a secret. So, Glenn is playing a woman who is playing a man who has a distinctly high sounding voice. I don't know about Oscar for this one!
Albert stopped being feminine at the age of 14 and disappeared into the disguise in order to survive. The makeup artists did such a transformation that you really don't know what you are looking at. Glenn had already played the role back in 1982 in a off Broadway play in New York .Glenn was a drama major at Virginia's College of William and Mary and spent nearly a decade in the theater before landing her first movie film role at age 35.
Yes, her first movie was playing the role of the nurse in "The World According to Garp" which also was her first Oscar nomination for best supporting actress in 1982. Her second film was "The Big Chill" a box office hit where she was a major figure in the college reunion group. Next in 1984 in "The Natural" starring Robert Redford she played the angellic Mary who inspired Robert the baseball player to be thr best. The 2 films offered her 2 more Oscar nominations.
Who ever gets to star in big films and gets Oscar nominations for each film the first time you are ever in a film? Glenn Close does. She did not want to be type-cast into the strong nurturing woman role, so she then in 1987 went for and got "Fatal Attraction" with Michael Douglas. The part was to play Alex Forest, a female book editor who is dumped after a fling with the married man and she becomes the worst nightmare of every philandering man's worst nightmare.
They didn't even want here to read for the part but Glenn wanted to prove that she could br seductive and mean and sexy all in the same film, and another Oscar nomination this time for best actress. Lets see 4 back to back films and 4 nominations. Wow. And all in the 1980's she has scored 5 nominations.
Then in 1996 came along "101 Dalmatians" a hugely successful Disney film where she got to play the classic witch. Since then she has focused her attention to the 5 year run of the show "Damages" on Direct TV. Here she plays attorney Patty Hewes who delights in advisoring her adversories . The series allowed her to film in New York which helped her to be close home to her husband and daughter and visit her country home in Connecticut where she grew up as a child.
The series earned her some of her best reviews in years. She loved playing it because it was a rare opportunity to play women in power. Her performance as Patty Hewes also wone her a Golden Globe, and 2 Emmy Awards but despite 5 nominations, and her own star on the Walk of Fame , she has never touched or won Oscar. She does have 3 Emmys and 3 Tonys on her mantlepiece now 6 tries at Oscar? We'll see maybe. Hey! She is just a woman that wants to get another guy on her shelf afterall.