A Marriage Based On Sex Will Never Last Yet Most Men Cheat Because They Are Unsatisfied Sexually
Till death do us part has become a phrase to mean , I'll kill you if I can't get away from you. Well, since we can't go around killing each other, after all it is against the law, we can legally get divorced. There is no stigma and millions of couples get divorced every day. Yes, I know, till death do us part is the moment in the marriage vows that is supposed to mean a declaration of our love till we die; a death sentence.
So, lets look at divorce American style through the eyes of some of the most famous couples in America who have had highly publicized divorces. Despite their handsomeness and beauty, the famous get divorced. It can be ugly and unpleasant, from Mel Gibson to Kim Kardashian celebrity divorces are public and get divorce attorneys rich.
Two and a half million couples have gotten a divorce in the past year. Half of the marriages end up breaking in the United States lately. So, is divorce fabulous because everyone is getting one? Let me ask my wife! Ouch! That hurt honey!
Some of the people we know that had divorces played out in the public eye are Marla Maples from Donald Trump, Mary Jo Eustace once married to Dean McDermott now with Tori Spelling. Mary Jo is also the author of the book " Divorce Sucks." I guess she didn't want to be dumped for the much richer Tory Spelling. Her husband broke up with here after being with Tory for 3 weeks.
Dina Matos is now the ex-wife of then Governor Jim McGreevey who left her and his career for another man. She only knew about that he was gay 2 days before he announced it at a press conference. They had sex together and he fathered their daughter. Dina wrote a book too called "Silent Partner." There is even a TV show called "The Good Wife" loosely based on Dina's life as the wife of a politician.
Marla Maples was married to Donald Trump for 5 years and has his daughter Tiffany where she has sole custody with a pre-nuptial agreement. All of the women felt as if their lives were being rewritten before their eyes and in the gossip magazines. Kate and Jon Gosselin saw their marriage and show disintegrate in public and with 8 growing children, some day they will have questions as to why the parents chose to leave the family unit. They will learn about their lives through re-runs of the show and You Tube.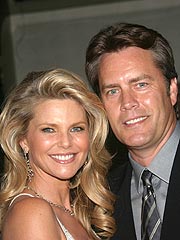 Beautiful Christy Brinkley had her 4
th
divorce displayed publicly after she found him having internet porn and a relationship on skype with a teenager. Kristen Armstrong is the former wife of cyclist Lance Armstrong who left her for singer Cheryl Crow. They were married for 5 years and had 3 children together. She wrote a book to called "Happily Ever After Walking With Peace & Courage Through a Year of Divorce."
No one listens to the Hall and Oates song anymore, " Family Man." that is about leaving him alone. no one cares of the damaging effects to intact families. There should be some sacredness involved in a family and one should take a step back not forward in thinking about breaking up a family. Yet, there is Divorce Barbie who comes with the most accessories. She has Ken's house, ken's boat , Ken's car and a wardrobe.
Public divorces are the worst for the children according to Psychotherapist, M. Gary Newman the author of "The Truth About Cheating." Also, children are embarrassed to have to disclose 2 different places of residence because they are in the middle of a joint custody decision.
Raul Felder was the divorce attorney for Mike Tyson and Rudy Giuliani and he notes that too often parents use their children as bargaining tools for a settlement and ultimately there is no way to win if there are kids in a divorce. Winning shouldn't even be a term used. Ultimately, you just have a pile of unhappy people.