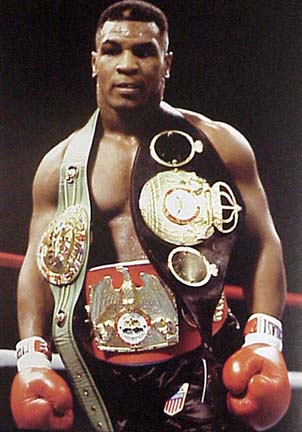 Who is a boxer turned actor? Yes, Mike Tyson. He is known as Iron Mike the former heavyweight boxing champion who is no longer heavy. He is known for being as mean as his punches. He beat up his actress wife Robin Givens in 1988, and bit off a piece of the ear of another contender, Evander Holyfield, was convicted and served time for rape. Once he told a contender that "I'm going to F--K you until you like it." He is trying to soften his image lately. He now calls his belts and trophies "garbage."
In the 1980's and 1990's he dominated boxing. He was the youngest undisputed heavyweight champion ever. He was also one of the richest and most recognizable men in the world. Now, he is 44 years old and lost 150 pounds. He traded his flamboyant lifestyle to a quiet life in the Los Angles suburbs. He raises pigeons now and shared his new passion in a recent series on Animal Planet called Taking On Tyson.
The bad man is a bird man and a full time dad. He is the father of 8 children but never spent much time with the older 5 children. He was abandoned by his father as a infant. Raised by his mother, he grew up poor on the meanest of Brooklyn, N.Y. 's streets. His pigeons are his friends because they don't ask him for any money and they always come back to him.
Destined for a life of crime, he was lucky to befriend a old boxing trainer Gus D'Amato. He boxed because he was always praised by Gus. At his height he earned about 400 million dollars. After a while he managed to file for bankruptcy in 2003 and soon thereafter retired from boxing. Now, he says, "It was the best thing he ever did."
Now he treasures the love of his present wife and kids. He hasn't been completely clean. In 2007 got a cocaine conviction. In 2009 arrested for roughing up a photographer. Been to rehab and is now for 2 and a half years sober. He has been humbled by the fact that his 4 year old daughter died in a unusual accident.
Recently he is wanted for his performances in the Hangover movies. He did it to pay the bills. He hates his World Boxing Association Champion (WBA) belt and hates his Ring Magazine Award World Heavyweight Championship belt. He values his life and kids more now. He likes his life now because he doesn't have to be tough and prove anything to anyone anymore. Most men have what he has now and didn't have to get the championships or money or fame; he is a late bloomer.
.