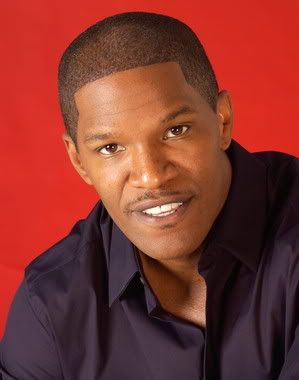 He is the first African-American man in history to be nominated for Oscars in two different roles in the same year. He was nominated for Best Supporting Actor in the movie Collateral and as Best Actor in the movie called Ray. That was back in 2005. Jamie Foxx won an Oscar for Best Actor when he played Ray Charles in Ray but acting is just one of his many talents. He was a star on his own TV sitcom and In Living Color, he has songs that made it to number one on the pop charts, is an accomplishes pianist and is a talk radio host. Now he is 45 years old and music has taken him from leading a church choir in a small Texas town to being in Hollywood's finest musical films.
His most recent film was a starring role in Django Unchained where he plays a slave turned Bounty Hunter on a quest to find and free his wife. The film is written and directed by Quentin Tarantino and it is gruesome, disturbing but funny at the same time. What is great about Jamie is that he is unafraid to redefine himself in the entertainment field. Most people who try to do something different from what they got famous for usually fail and loose their popularity. Not Jamie;he just makes us want to look even closer at what he is doing now.
He was born Eric Marlon Bishop and was an adopted grandson who was the class clown and teacher's pet throughout school that also managed yo be the star of the high school football team. His town was a safe town where there wasn't any shootings unless someone felt like shooting at a squirrel. They love him so much in Terrell Texas, his home town, that they celebrated Jamie Foxx Day in 2009.
Jamie received a scholarship to study classical piano but 2 years later on a dare he tried performing stand up comedy and took on the name Jamie Foxx to sound more female because women comics were treated better than male comics. Soon he became famous for his comedy and his wild parties. At one of his parties there was a woman who only wore high heals and her cell phone. Some of his party boy moves were seen in his 1997 movie called Booty Call.
He moved on to better quality movies like the 1999 movie called Any Given Sunday directed by Oliver Stone where he showed off his Football skills to his coach played by Al Pacino. After meeting Oprah and Sidney Poitier he calmed down and took his image more seriously and appeared in more movies alongside other accomplished actors. His Grandmother who raised him died just months before he received his greatest accomplishment, his Oscar but he says that his first love is his love of music.
Appearing with him at this year's Oscars was his beautiful 19 year old daughter Corinne Bishop. Foxx had a daughter in 1994 with a woman named Christen. Foxx and Corinne's mother are no longer together but Jamie stays tight with his daughter and she has been his date to many of the award functions this year. He also has a younger daughter named Annalise. Bishop isn't working on getting into acting or singing like her father just yet but has been working as a model and it's easy to see why, she is beautiful. But with her father's acting chops, we can't imagine it will be long before Bishop herself is starring in movies.