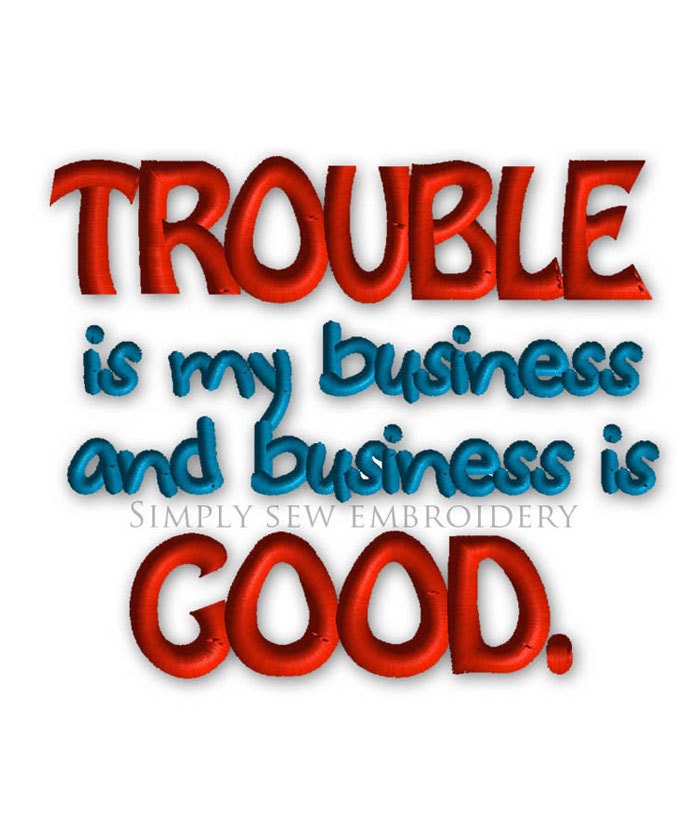 Trouble is my business. Yes, that is what Lawyers say which is a quote from Philip Marlow in 1939. Nothing brings on trouble more in families than the holidays. It brings trouble. When nephew doesn't visit grand-ma in the home for Thanksgiving, Grand-ma calls the Lawyer and gets nephew thrown out of the will. If he visits her for Christmas, nephew is back in good graces with grand-ma and the trouble goes on and on off and on.
New Year's Eve is not all about kissing and wonderful reflection of a another year with someone. Quite often it can be the final resolution to throw the bum out of the house. So, trouble is my business. Yes, divorce is alive and well. Not the business of who's your daddy. No, divorce is even gaining tolerance among religious circles. It only takes money to have your marriage annulled in the Catholic Church.
No one even cares much about who is your daddy unless daddy might have money. Then Raoul Felder appears everywhere being America's best known divorce and family lawyer representing more than 40 years of ordinary people and celebrities in over a thousand cases. He is known as the Divorce Lawyer to the Stars.
He did the Tom Cruise and Katie Holmes divorce and says things on camera like, "He had as much chance of getting custody of Suri as the Ayatollah." He was part of Madonna paying Guy Richie $92 Million to get lost in that divorce. His main advice is that if you do not have a Pre-Nuptial Agreement you might as well see a Psychiatrist and not a Lawyer.
Paul McCartney had to pay nearly $50 Million dollars to Heather Mills. He does not perceive it as gold digging, it is more like whatever you can get, whatever the law allows you to take and they weren't even his clients. Robin Givens and Mike Tyson had a divorce and he represented Robin. David Guest was his client and was Liza Minnelli's 4th husband. He represented Larry Fortensky, Elizabeth Taylor's 8th husband. He represented Johnny Carson's wife and actress Carol Channing. Yes, he represented former NYC Mayor Rudy Giuliani in his divorce from Donna Hanover too. Why does he represent famous people? Because he can get big fees out of them. He says, " It is the American system."
It is a system where he grew up borderline poor in Brooklyn, NY. He was the son of jewish immigrants. His father was a veterinarian who then turned into a not so successful lawyer. The only thing that brings tears to Raoul's gyes is the thought of his brother. In 1934 his older brother Jerome caught Polio at camp and had trouble walking for the rest of his life.
Raoul is most in awe of his brother's talent as a successful songwriter. He changed his name to Doc Pomus and wrote some favorites like A Teenager in Love, This magic Moment, Viva! Las Vegas and You Can Dance meanwhile he couldn't dance at all. He even wrote the number one hit, Save The last Dance For Me.
Mr Felder decided to go into divorce law at a time when divorce was not looked upon as
a solution to relationship problems. Since then he has written seven books and has published numerous articles related to matrimonial law, politics and social issues. He has been all over TV radio has been a spokesperson, host and moderator on various shows.
There was an unsuccessful fight to force him out of the job as New York's Chairman of the Judicial Conduct Commission since he wrote an offensive book with the comic Jackie Mason called Schmucks. The vulgar comments in the book were ethnically insulting and offensive it damaged the stature and reputation of the Commission.
The Commission problems were like a fly on his shoulder, a brief discomfort. He has been married for 49 years to his wife that is also a lawyer only she is not flamboyant and not involved with celebrities as he loves to be with. Sure I visit my clients and hand them documents but this guy charges over $600 an hour and escorts his clients to court in his chauffeured driven Bentley.