She is one of the most beautiful character actresses you have ever seen lately and has helped to create some of the most memorable things on film lately. She had a large role in the movie Sea Biscuit. Her reoccurring guest appearances on TV's 30 Rock got her an Emmy Nomination twice. She also played a 30 something vixen in the film The 40 Year Old Virgin.
In more than 50 roles on TV and the movies, Elizabeth Banks has made a career of taking smaller parts and stealing the show. Her problem is that she is a fun character actress stuck in a beautiful leading ladies body. She says that it is a lot of fun playing the character roles and gives her more options in life.
You would never know it but she is F.E. Trinket in the over the top film "The Hunger Games." it was a role she had to fight for. She believes that patient and persistence is the way to go in the movie business. You hardly know it is her hidden under all that makeup. Born to a factory worker and a bank clerk
Elizabeth Marisol Mitchell grew up in the working class part of Pittsfield, Massachusetts She only had dreams of not living in her home town forever. Young Liz walked through woods and trails just like her father did when he was a child. She loved her childhood but felt that she had to move on and get out of that town.
Her first job was working as a chambermaid at the White Horse Inn in her home town. She at one time hoped to be a professional athlete until she broke her leg in a softball game. After college she hit the auditions but to avoid confusion with another actress known as Elizabeth Mitchell, she changed her name to Banks. She cried when she had to give up Mitchell simply because of family pride.
She feels bad that her parents have to say "No, really! That is our daughter in the movies." But then she rationalizes her guilt by reminding us that most women change their last name for marriage anyway. In 2003 Banks married the man she met on her first day of college. Yes , sometimes you know who is the one you will love within the first few hours of meeting someone.
He is sports writer and producer Max Handelman. She kept her name Banks. Now she and her husband are partners in more than life. They co-produced the movie Pitch Perfect. It is a comedy about the world of Competitive Capella Singers. Producer Elizabeth Banks gave herself a small part which true to form she did a memorable performance.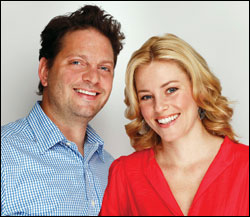 In this years, "What To Expect When You Are Expecting," she plays a fed up Mom to be. In real life she and her husband struggle to conceive. It didn't help that most of her closest friends all started their families. She felt that they were trying but were yet being left behind. Their son Felix was born last year through a surrogate mother. She has been married for 9 years and her son is 19 months old.
She says she meant to have a child 9 years ago. It didn't happen but she says it was a happy struggle because at the end there was going to be a way somewhere somehow a little person for them. Even though she has done some risqué scenes in movies like The 40 Year Old Virgin, she feels that massacres like 911 are more to be wary of than him seeing his Mom in a bathtub scene in a movie'
She loved playing with people that have grown in their careers. When she played a role with Ryan Reynolds in the film Definitely, Maybe in 2008 she looks back and was glad to have worked with him. Even with a career that many would envy she says she is still hungry for that big moment on film that is yet to happen.