It is time to say Happy Birthday to a place that helped us say Happy something to someone we loved throughout the years. Yes, Happy Birthday Tiffany's. No, not that girl you met at the bar. Tiffany the famous jewelry store. Tiffany's the store that was featured in the 1961 film with Audrey Hepburn called Breakfast At Tiffany's that delighted women everywhere with just the sight of the aqua box.
The store sells rings, bracelets and necklaces just like most any store but this store is known to generations for its fine quality of gem stones and impeccable style that never goes out of style. Most items in the store you can't afford to buy but that is part of the charm of the place. Michael Kowalski is the Chairman and CEO of Tiffany & Co. that began 175 years ago.
Long before the flagship store was built in 1940 on 5
th
Avenue in New York City, Charles Lewis Tiffany & John Young opened a stationary and kind of staples store at 259 Broadway in Lower Manhattan in 1837. The men borrowed $500 each from friends and relatives and opened the store. On their first day they made $4.95 and they were in business. The company now has a historian and a design expert who notes that Mr. Young soon thereafter bailed out of ownership.
Tiffany proved to be a marketing genius by hiring designers and the best American silversmiths whose designs on the silver and jewelry pieces started winning international awards for style and design. Many of the early works can be found today in New York's Metropolitan Museum of Art as well as in the company's private collection. By the mid 1800's Tiffany jewelry was already the rage. All women wanted to flaunt a Tiffany brooch on a scarf.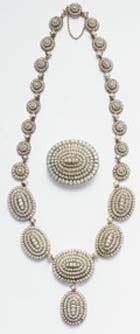 Even Abraham Lincoln knew where to buy sea pearls for his wife to wear at his Inauguration. The historian notes that old Abe came in personally and bought the pearl necklace from Charles Tiffany himself. Rumor has it that Abraham asked for a future Presidential discount and Tiffany replied that no one gets a discount at my store . WOW. Nowadays store owners tell famous people to wear the stuff for a while and advertise where you got the necklace from that is unless you are Lindsay Lohan and you go to jail for walking out the store with stuff still on.
The famous aqua blue used in all the packaging with the signature soft white bow, well it was chosen because it was the favorite color of Empress Eugenie the wife of Napoleon III. She was considered the most stylish woman in the world. After she died in 1870, Charles Tiffany who by then was known as The King of Diamonds, bought some of her jewels which made him world known.
His store was already famous for its simple elegance in the stylish settings for engagement rings introduced in 1886. Today diamonds are about 1/4
th
of Tiffany's $3.6 Billion dollars in annual sales. Much of the jewelry is still handcrafted in New York. While you can pick up a say blue diamond ring for a mere $10 Million dollars in some cases you can draw a design and have it custom made for you too.
Now the store is entrusted with some of the finest gems found in the world to be cared for. There is a huge yellow diamond discovered in 1877 from South Africa that is now considered priceless. In honor of the companies birthday celebration it has been reset into a gorgeous white diamond necklace and now is called the Official Tiffany Diamond that weighs at over 128 carets. Tiffany's grandson bought the yellow diamond for a mere $18,000 dollars. Now that is a birthday present to really be glad to have!
If Charles Tiffany was known for his marketing talent, his son Lewis was known for his artistry. Yes the stained glass priceless Tiffany lamps were born in his generation with its impeccable style and detail. His work took the company to an even higher level. Like anything, you should always reinvent yourself to stay current. Besides the lamps, he also designed beautiful jeweled pieces in large Cleopatra style by often using American gems like sapphires from Montana.
Now Tiffany makes trophies for the Super Bowl, NASCAR and horse racing. Lady Bird Johnson ordered china for the White House and back in 1885 the company created the design for the great seal of the United States. You can see the eagle holding leaves in his feet on the back of every dollar bill. So, tell your friends you got something from Tiffany's in your pocket and show them your last dollar.