Don't Stop Believing! Is becoming the new national anthem. Why? Because Americans are scared. We have had enough of trauma. The government can't agree with each other, the American dollar is soon to be worth nothing, our houses are in foreclosure, our savings are gone, everything costs more everyday, there is no job security, there aren't any jobs, we have to work until age 72 but we can't stop believing that things will get better.
Thirty years after releasing that song the rock group Journey is still believing in the uplifting power of that song. For all these years it has been on the band's play list every time it appears anywhere. The fans demand it to be heard live again. It is not just a Journey song anymore, people are singing it everywhere nowadays.
It has become the most covered, karaoke, and parodied song in modern music history. From baseball games, to Broadway and with digital sales to 4.5 Million , it is officially the most downloaded song ever recorded in the 29th Century.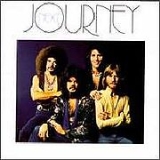 It began as the brainstorm of the keyboard player Jonathan Cain. First recorded with a band called The Babys in 1980. The band went nowhere and he was very poor wanting to return to his family. His father always told him "Don't stop believing' stay and join a new band." He then joined Journey and revamped the song with guitarist Neil Shawn and then lead singer Steve Perry. Within minutes Cain's chorus was transformed into a new song.
Each instrument is featured. First the keyboard then the vocal, then the bass guitar and finally lead guitar. We all know the parts by now. It barely broke the billboards charts top 10 back in 1981 as a single. It still anchored their monster album Escape which went straight to number one that year. Still, when the band broke up six years later, we thought it would drop into the oldies pile of songs then came Adam Sandler.
Yes, the actor used the song in his 1989 movie The Wedding Singer where a string quartet played an instrumental version of the song while he was left at the altar of his wedding. Ten years later, it is suddenly revived. Seven other movies , and a dozen other TV shows borrow the song as well. Including the series finale of The Soprano's.
No revival can compare to the kid version used in the hit show Glee. The show's creators originally wanted Cole Play's Viva La Vita to be the pilot episode's killer closer. They were denied permission to use it. The rest is more money for Journey and Gleek history. The whole premise of the underdog in the song is uplifting. After Glee's version, Journey saw a 80% spike in sales! And the Glee cast version of Don't Stop has sold over one Million downloads making it their best selling song.
No one can relate to it more than the guy who is singing it for Journey now Amel Pineda. Just 4 years ago he was a singer in a Philipino bar band . Journey found him on You Tube singing their song and his life turned around pretty quickly. Journey did not know he was singing to survive. His Mother died when he was 13 years old after a long illness that left the family bankrupt. He ended up homeless sleeping in a Manila park collecting scrap metal to have money to eat. Even before he started singing the song, he used it as motivation for his own sad life. He never stopped believing that something magical would happen in his life. Now he is wealthy and singing to millions of people with the band all over the world.
His debut album Revelation for Journey went platumn in 2008 and brought on a successful world tour including a triumphant homecoming concert in Manila for 30,000 of his fans. He took the rest of the band back to see the park where he lived. The story will be featured in a documentary called "Everyman's Journey."
The new inspiration, brought on the band's latest album called Eclipse featuring a song called "City of Hope." He has started a foundation offering Pilipino children to receive education and health care. His advocacy and legacy is to put back hope and help his countrymen.
I will never forget when my kids told me about the new song they heard on Glee and I sang along and said it's a old song from when I was young. They couldn't believe it and we bonded and sang together. Our current lives are shattering and sometimes we have to go to court to try to change things and sometimes things happen for the better. Don't stop believing'