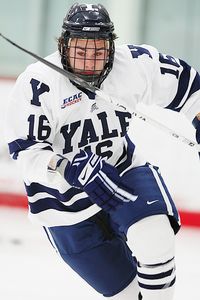 The best in hockey.

YALE

Who would have thought a ivy league team would be ranked No.1 in the country thanks to the coaching of Keith Allain who was also an ex-player.

Most of the past years you could have picked any seat in the Ingalls Ice Rink,

the home of Yale hockey, but not this season.

Tickets are difficult to find this year even though the rink seats 3,500 people. There has been hockey at Yale since 1895 and the team has NEVER been ranked Number 1 in the nation until January.
The coach Keith Allain was in the Yale class of 1980 and played goaltender for coach Tim Taylor- the man he succeeded as coach five years ago.

It's cool to be Number 1 but it doesn't really mean anything until April.

Lets hope they can maintain their lead.

They are a small team with 5 forwards who are 5-9.

They are regularly outsized but almost never out skated.

The coach makes conditioning and skating a priority and preaches a fast paced transition game.
The greater goal for 2011 is to finish what the team started last season and bring home the ultimate prize-an NCAA title.

Yale had its unofficial coming-out party on the national stage late last march in the regional finals of the NCAA Tournament, when it lost a 9-7 decision to Boston College, the ultimate NCAA champion, one game short of the Frozen Four.

It was the most successful season in Yale hockey history.
"Keith Allain has done a remarkable job and has built a program that wins on a consistent basis," says Jerry York, the coach of Boston College. "I think Yale is a contender on the national level, for sure."

Allain is also coaching the U.S. junior team in the world championships in Buffalo.

Busy guy. Great team.